Facilities
Multifacility Fitness Arena Spreaded across 7000 Sq. Ft.

Cardio Training
We are always keen about providing best of class equipmentes for training and workout. Cardio training is one of the most impportant part of physical fitness, and we don't want you to compromise it on. We have OCTANE: As the only fitness equipment manufacturer in the world dedicated exclusively to zero-impact cardio, they are an established leader in this highly competitive industry. Precise focus and proven performance clearly distinguish the company, and benefit you with innovative, award-winning products; dedicated resources; uncompromised quality; and personalized customer service. The company revolutionized the standing elliptical category, with multiple breakthroughs unavailable on any other machines, such as SmartStride, MultiGrip and Converging Path handlebars and Workout Boosters.
STARTRAC:- Having Soft Trac® triple cell cushioning system, it provides maximum shock absorption making the entire deck a sweet spot. It is your Running Partner. This treadmill is a revolutionary new indoor running experience. Combine these features with the safety elements designed into all Star Trac products and you have a winning design that meets the needs of the treadmill user.
Nautilus Strength Training
The most important training program. We have Nautilus machines which were designed by Arthur Jones. Most National Football League teams use them in strength training, as do some professional baseball teams and colleges. Many athletes, notably Billie Jean King, have been rehabilitated on the machines after major surgery or injury. Nautilus CAM was so innovative to strength machines because it changes the way resistance is applied. When a cable with weights is pulled over a round pulley, the resistance is consistent, but when a nautilus shaped or oval CAM is used, the resistance is varied. This is due to the distance between the cable and the CAM's pivot point changing as the CAM rotates. The load is lighter at the beginning and end of the motion with the full resistance in the middle. The variable resistance follows the body's natural strength curve and makes for a much better workout.

The Nautilus machines offered an effective and efficient way for individuals to engage in resistance training. Arthur Jones was the genesis of the fitness equipment industry. He revolutionized selectorized strength training by inventing the "Thinking Man's Barbell" and popularizing Strength CAM Technology. Nautilus invented the entire modern strength training category more than 40 years ago, Nautilus provide a fitness experience that naturally fits human movement.

Weight Training
The hardest part of body workout but most enjoyable in feternity. We are providing exclusive weight training arena in premises. The enables everyone to enjoy their training with full of enthusiasm. Results of body workout are very depending on your training peformance. But it does'nt Start with your body itself, it start with your mind. The better the strngth of your mind and will, you will enjoy the training sessions and it will convert it to ripped body results.
Schwinning Studio
Spinning is long known to decrease fat and help people drop kg's. In fact, it's so effective that research has shown replacing one bout of moderate intensity exercise with two 30-minute sessions of the high-intensity workout can improve everything from your cardiovascular health to your body composition. Spinning may help you build muscle definition, in addition to burning unwanted body fat. Generally, spinning focuses on your core muscles, buttocks, and thighs. While pedaling, you work out tour thighs and calves. ... If your main goal is fat burning, you should pedal faster.


Group Ex Activities
Zumba, Aerobics & Yoga Facilities. Grooving to the beats of music feels more like a dance party than a workout, which is exactly what makes Zumba so popular. The Latin-inspired dance workout is one of the most popular group exercise classes in the world. The high-energy classes are set to upbeat music and feature choreographed dance numbers that you might see in a nightclub. You don't need to be a great dancer to feel welcome in a Zumba class. With the tag line, "Ditch the Workout, Join the Party," the classes emphasize moving to the music and having a good time, no rhythm required. Working up a sweat in the 60-minute classes burns an average of 369 calories -- more than cardio kickboxing or step aerobics. You'll get a great cardio workout that melts fat, strengthens your core, and improves flexibility.
Zumba and Aerobics is an interval workout. The classes move between high- and low-intensity dance moves designed to get your heart rate up and boost cardio endurance. Zumba is one of the most fun and versatile fitness crazes to come along in a long time. Classes can be geared for just about any fitness level. Though most Zumba involves high-impact moves like bouncing and jumping, it can be modified to meet your needs.
Experience All Facilites Under One Roof
Join Today!! Batches Filling Fast.
Call Us
Piloxing Workout
Piloxing combines Pilates and boxing moves in a high-spirited interval workout. It is a unique new fitness program that's gaining popularity worldwide, spurred on by celebrity practitioners. If your goal is to burn calories, Piloxing is a great way to do it. Its high intensive nature enables you to burn up to 1200 calories an hour. The idea is to burn the highest number of calories in the least amount of time to give you the best results. While no one's stopping you from hitting the gym, it's good to mix it up every now and then. As opposed to weight training, which targets muscles in isolation, Piloxing is an overall workout.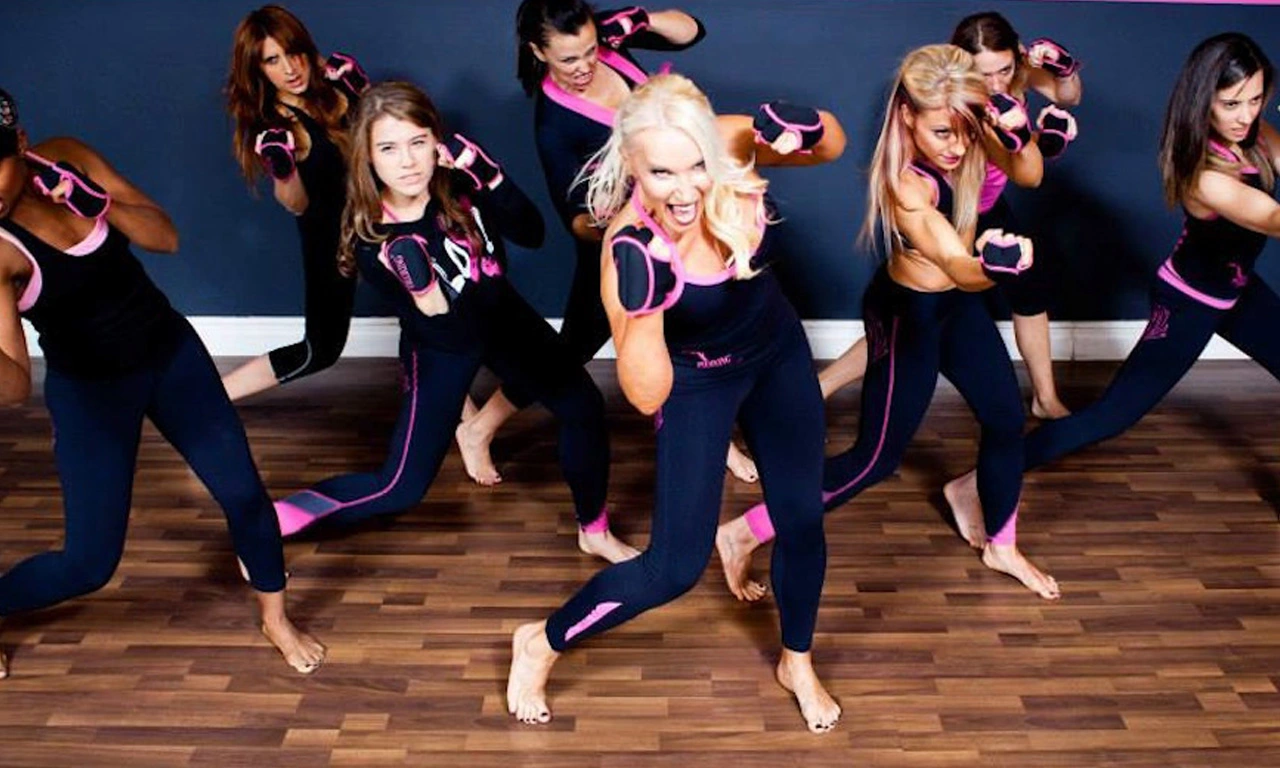 The unique combination of the three workouts increases cardiovascular ability and helps with muscular endurance. Boxing gives you strength, power and agility. Pilates build your core stability, tone your body, increase your flexibility, and help with posture, alignment and even balance. And there's a little bit of dance to add a fun element.

Parkour Training
Parkour is a training discipline using movement that developed from military obstacle course training. Practitioners aim to get from one point to another in a complex environment, without assistive equipment and in the fastest and most efficient way possible.
Functional Studio
Functional Training is an effective way to get fit. At The Fitness Temple we are having dedicated section for Crossfit Workout. Anyone can do it. It is a fitness program that combines a wide variety of functional movements into a timed or scored workout. We do pull-ups, squats, push-ups, weightlifting, gymnastics, running, rowing, and a host of other movements. By doing this, Functional Training targets what it calls the major components of physical fitness: cardiorespiratory fitness, stamina, muscular strength and endurance, flexibility, power, speed, agility, balance, coordination, and accuracy. Training the Functional Training way requires you to work out 3 to 5 days per week.

The Functional Training workout template suggests you work out 5 times per week using a schedule of working out 3 days and then taking 1 day off. When you have been training some time (as a very general rule of thumb let's say 3-6 months) this is a great workout frequency that will give you incredible results.

Kettlebells & Suspenssion Belt Training
Kettlebells are known to improve overall strength, core power, balance, flexibility, and coordination while also melting fat and sculpting healthy and lean muscles. At the same time the Suspension Trainer is the original, best-in-class workout system that leverages gravity and your bodyweight to perform hundreds of exercises. You're in control of how much you want to challenge yourself on each exercise - because you can simply adjust your body position to add or decrease resistance.
The kettlebell provides a more user-friendly means of performing classic strength-, muscle-, and power-building exercises, such as the clean and snatch, which many people can't do safely with a barbell. It lends itself perfectly to flowing movement, building stability and mobility that carries over to athletics—as well as the game of life—seamlessly. The Suspenssion Belt System, also known as Total Resistance exercises, refers to a specialized form of suspension training that utilizes equipment developed by former U.S. Navy SEAL Randy Hetrick.
Personal Training
A personal trainer can provide creative, effective workouts, prevent injuries, ensure you hit your goals, and provide consistent, non-judgmental fitness support. Working out with a personal trainer increases your fitness-goal success rate by over 30 percent. Hiring a personal fitness trainer might seem like a luxury if you are on a tight budget, but if you really want to get the most out of your workouts, a trainer is a great investment. The improvement in your health and fitness levels can have long-term payment in quality of life, and even decreased health care costs.


Nutrition
At The Fitness Temple Nutritionists take a holistic view of a person's lifestyle, dietary habits, and overall health, to provide them customised nutritional advice. After creating a nutritional plan, a Nutritionist will continue to monitor our client's progress and any changes or improvements to their health. Good nutrition is an important part of leading a healthy lifestyle. Combined with physical activity, your diet can help you to reach and maintain a healthy weight, reduce your risk of chronic diseases and promote your overall health.
Steam Bath
We provide you seperate Steam Bath facility to rejuvinate your body after workout. Sitting in a steam room might significantly improve your cardiovascular health. A study of older individuals showed that moist heat improved circulation, especially in extremities. Improved circulation can lead to lowered blood pressure and a healthier heart. It can also promote healing of broken skin tissue.